The girls - and their panties - are back!
Extremely frequent exposures of the female characters' panties is what can be considered a focal point of the Aika series.
Almost, if not all the girls wear short skirts or dresses, leading them to contribute numerous panty shots over the course of each episode. This commonly occurs when a girl fights, moves, when the camera pans to a view that looks up her skirt, or when wind blows her skirt upward. Girls who are defeated in combat also invariably expose their panties, as their bodies commonly sprawl in (fairly amusing, but) undignified positions with their skirts riding up their hips, or with their legs spread wide apart, their panty-clad crotches visible. Sometimes, when the camera zooms in on a girl's crotch, the shape of the girl's labia can be seen against the fabric of her panties, as was the case with Kana Shiraishi's body after she was defeated by Aika.
White panties
Edit
The majority of the girls in the series wear white panties beneath their skirts. This includes Aika herself, most of the main female cast (apart from Karen), and all the generic female enemies (the White Knights and Delmo Corps). Most of the girls' panties have a small ribbon on the front, which occasionally varies in color.
One of the few panties that are different, Neena wears black panties with lace trimmings.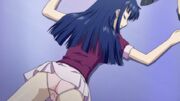 In AIKa R-16, Karen wears pink panties beneath her skirt.
Bikini bottoms
Edit
In Aika R-16 there was a episode that was on a Beach. Most of the girls were the Bikini squad.
Bikini Thong
Edit
AIka R 16 episode 2 featured many characters in bikinis.
In a few scenes there are some in lingerie most notably Neena, Risako, Karen and Eri.
Metal Panties
Edit
Lagu and Neena Hagen's red panties.