AIKa Zero is a OVA sequel to AIKa R-16: Virgin Mission consisting of three episodes. It features new characters and two characters from Agent Aika namely Neena Hagen and Rudolf Hagen. AIKA Zero's opening and ending themes are FLYING KID and Dream Hunter.
Plot
19-year-old Aika Sumeragi is called to investigate the goings on at a private Catholic school that is run by a council group called the White Knights. In the school, the students have been mysteriously disappearing and those who have returned have no memory of the event. They discover that there are aliens who use rope-like tendrils to probe the girls, knocking them out and harvesting their energy, or possessing them to do their bidding.
Characters
Episode list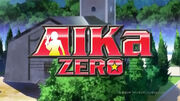 Also three short specials called AIKa Zero Picture Drama were included with AIKa Zero DVD and Blu-ray release.
External links